Why Cooking gas prices are soaring in Nigeria
A lot of questions have been asked about cooking gas prices
When will the cooking gas price increase stop?
Will cooking gas prices continue to increase?
What can the Federal Government of Nigeria do about Cooking Gas?
Are cooking gas prices controlled by a cartel?
Would cooking gas prices drop in summer?
This post attempts to explain the reason why cooking gas prices are currently on the increase
When the cooking gas price trend would reverse to the downward trend
Factors or reasons for the cooking gas price increase.
What the Federal Government of Nigeria can do to alleviate the effect of the price increase
Nigeria has experienced the highest cooking gas prices at the depot and retail side of the business. Today, 20 Metric Tons of LPG cost 7.2 Million Naira in Apapa and Delta depots. On the retail side, a 12.5kg LPG ranges from N5,000.00 to N6,000.00 in places like Owerri, Ogwashi, Port Harcourt, and Calabar. In states like Gombe, Jigawa, Katsina, a 12.5kg LPG ranges from N5,400 to N5,800.00 according to feedback from our Facebook page.
Several factors are responsible for the increase of LPG prices in Nigeria. Firstly let us look a little at the past – how LPG prices reacted to some factors. In 2019 International Butane price  ( Mont Belvieu ) was 234.4 USD/MT as of July 15, Depot price was N3.1 Million for a 20MT at the depot and Foreign Exchange (FX) Interbank rate was 360 Naira/USD; the price of 12.5kg was about N2,800.00. In 2020, after the Lockdown, International Butane price  ( Mont Belvieu ) was 238.5 USD/MT as of July 15, Depot price was N3.7 Million for a 20MT at the depot and Foreign Exchange (FX) rate was 387 Naira/USD; the price of 12.5kg was about N3,500.00. Today, the International Butane price  ( Mont Belvieu ) is in the range of 570 USD/MT, Depot price is N7.2 Million for a 20MT at the depot and Foreign Exchange (FX) rate is 411 Naira/USD; the price of 12.5kg is about N5,500.00.
It is important to note that the international Mont Belvieu price on which the supply of LPG is benchmarked in Nigeria is about 60 to 65% of the Landing cost of LPG. When you include freight cost, it can be up to 85% and more when the Black market rate is used as it is currently being used by importers.
International Mont Belvieu prices for Butane are the highest since 2018  when they hit 595.1396 in October – the FX rate was relatively low compared to the current rate.  It is also noteworthy is that prices were as high as 796 USD in the December of 2012. Today an international price of 796 USD/MT would translate to about 8 Million in Depot prices and about N6000.00 to N6500.00 per 12.5kg.
But, the other important question is why are international Mont Belvieu prices of cooking gas unusually high, even at this time of the year.
According to Argus, International (Mont Belvieu) LPG prices are unusually high as a result of low inventories of LPG in the US – one of the biggest suppliers of LPG in the world. Reduced inventory is a result of several factors;
Reduction of Oil and Gas production first as a result of unprofitable Shale Oil production and of course low LPG demand as a result of the Pandemic.
Increase in the demand for LPG by China who has increased activities in the Petrochemical sector where propane is increasingly required.
Reduction in LPG Export by Russia causing supplier pressures on US inventory
Reduction of Oil & Gas production capacity by Saudi Aramco due to OPEC agreements ( remember LPG is a by-product of Oil & Gas production).
When will this increase stop, when do we expect a reversal in trend?
We do not expect an improvement in supplies which would lead to less stress on prices, until the 2nd quarter of 2022, when production would have improved. But, considering that LPG demand is still high at the beginning of summer, prices may continue into the winter where LPG is needed most.
A break in price increase may occur deep into the Summer – early September, but it would be temporal. The strain on supplies is likely to continue as China continues to build Petrochemical plants, Russian concentrates on local demand, OPEC cuts production and the US inventories remain at the same current levels.
2023 is most likely when we will be out of this LPG scarcity and high LPG prices. According to Analysts, this is when pre-covid production levels would return in the US, Russian inventory would be good enough for exports and OPEC increases production.
What can the Federal Government of Nigeria do to stem Cooking gas/LPG price increase or alleviate the effect on Nigerians?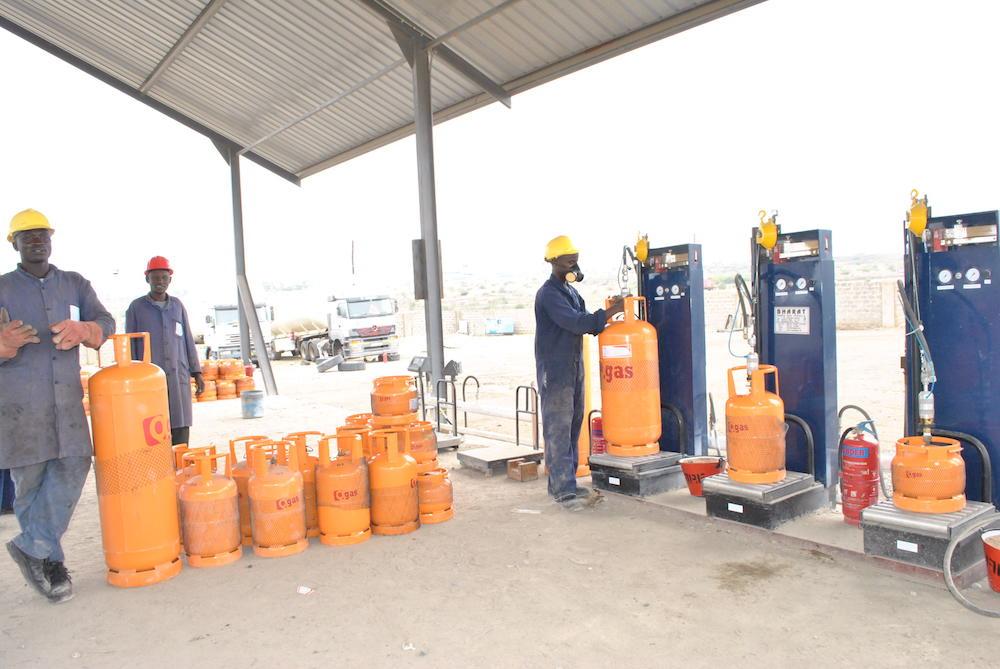 picture: Pulse Nigeria
There are several ways the Federal Government can come in to help the industry, as we aspire towards the 5 Million tons target:
Give FX incentives to LPG importers – LPG importers currently supplier the industry using Black Market rates ( currently above N500/USD), against Interbank rates which the Nigeria Liquefied Gas Ltd (NLNG ) employs when delivering to the Nigerian domestic market. If FX can be made available for importers, it would drive prices down considerably. Data has shown that Import accounts for about 50% of LPG supplies in the country ( see chart ), and this will increase with the increase in volumes – it, therefore, means that if importers continue to import at Black market rates, their landing cost of LPG would continue to be the reference price in the country. Case in point, Natural gas plants like NPDC Oredo, Kwale Hydro Carbon Ltd- Kwale, Greenville LNG- Rumuji and PNG-Umutu, all do not sell based on their production cost, they sell based on the prevailing market prices of other depots.It is important to note that the industry has grown mainly through private sector investment, so the thought of regulating the prices of the industry should not come in. The industry should be allowed to continue to grow by the forces of Demand & Supply, which has worked these past 10 years plus.
Continue to keep the tax incentives going for LPG and add reduction or a temporary removal of duty on LPG equipment.There is no better way to improve the citizenry than enabling sustainable development through good health and better living standards which LPG brings – there would be no revenue losses as the citizens benefit.
In conclusion, Oil and Gas prices will not continue at this rate as we have the clamor for renewables getting louder by the West. Recently the European Commission set a Net Zero target to stop the usage of fossil fuel by 2050 and an economy with net-zero greenhouse gas emissions. This would mean a significant reduction in demand for fossil fuel leading to a drop in prices. The downside of a reduction in the demand is a corresponding reduction in investment and production leasing to strain in supply which could lead to high prices. In this case, countries like Nigeria would have to stimulate local demand to meet the vast supply potential.
The work starts now.
Thank you for stopping by, please follow our social media pages on Facebook and Twitter for regular updates on the Nigerian LPG industry.